"Made in Germany" is a seal that is applied to products that have been manufactured in Germany. There are many reasons why this seal is of great importance to many people. First of all, Made in Germany is a sign of quality and reliability.
Germany is known for its high standards in terms of working conditions, environmental compatibility and quality control. Products made in Germany are therefore often considered to be of particularly high quality and reliability.
From warning sign to quality seal
But that was not always the case. The history of the Made in Germany seal goes back to the 19th century. In the second half of this century, products from Germany were of such inferior quality that the British had to pass the Merchandise Marks Act 1887.
According to this decision, the country of origin should be clearly indicated on goods. British consumers should then be able to recognise imported goods from Germany. This is how the first Made in Germany seal came into being, which had nothing to do with a quality seal.
What does the Made in Germany seal mean today?
Germany was able to turn such a bad reputation into the opposite after the Second World War. Since then, this seal has been synonymous with the economic miracle. The seal shows consumers that a product was made in Germany and is therefore of higher quality.
Today, the seal continues to be used to identify the origin of products and guarantee their quality. An international study shows that this seal has a high reputation worldwide. According to this study, Made in Germany was ranked first out of 52 countries in the Made in Country Index in 2017.
What makes Made in Germany?
For a product to be considered 'Made in Germany', development, design, production and quality assurance should take place for the most part in Germany. It is sometimes also required that the essential production, final assembly and a decisive part of the value chain take place in Germany.
Anyone who manufactures a product should definitely not lose sight of the fact that the following characteristics are associated with Made in Germany: reliable quality, controlled product conditions, hohcer processing standards and high-quality materials.
What does this label mean for consumers and businesses?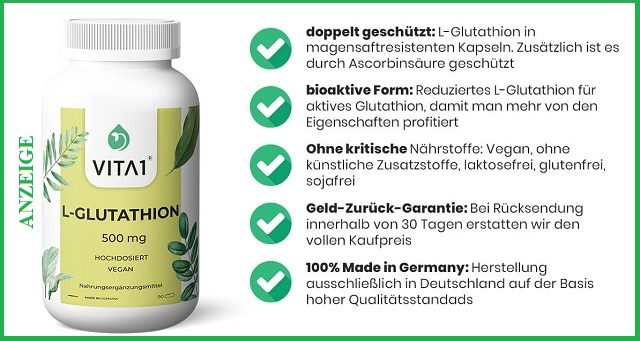 For many people, the Made in Germany seal has great significance, as it is a sign of quality and reliability. Many people appreciate knowing that a product was made in Germany and produced under the high standards here.
The seal can also be of great importance for companies, as it helps them to differentiate their products from those of their competitors and to position themselves as a high-quality manufacturer.
In Germany, in addition to medicines, food supplements must also undergo strict quality controls and meet high standards of purity, safety and efficacy. The composition and dosage of the ingredients must also be precisely stated. This means that food supplements produced in Germany are usually of higher quality than those produced in other countries. They are likely to contain fewer impurities and are safer and more effective.
Therefore, food supplements that have been produced in Germany are of great importance for many people, especially for those who pay attention to a balanced and healthy diet.
As feelgood24 we recommend to our customers the products of the brand VITA1. These products are carefully manufactured in a modern production facility in Germany and are therefore subject to strict quality controls to ensure that they meet the highest standards.
In addition to being manufactured in Germany, VITA1 products are also regularly tested by independent laboratories for possible contaminants such as pesticides, salmonella, E. coli bacteria and moulds. This ensures that VITA1's food supplements are safe and of high quality all round.
No matter whether Vitamin D3 Capsules, Glutathione Capsules or Ashwagandha capsules, all products from VITA1 are a result of many years of research with natural raw materials. Best ingredients without undesirable additives, optimal dosage and high bioavailability! We understand these special features as criteria for a German product.
No room for empty promises
Food supplements are not medicines and do not replace a balanced diet. They can only supplement it. Serious food supplement manufacturers are aware of this, are careful with the health claims, behave according to the European Food Authority EFSA and do not make empty promises.
A very important sign for reliable manufacturers are money-back guarantees. Those who believe in their products and stand behind their quality are also in a position to promise this. Therefore, it is important to find out whether the manufacturer shows this willingness.
As fuehldichwohl24 it is close to our hearts to supply our customers through reputable dietary supplement manufacturers who are all-round reliable. With the brand VITA1 we are therefore pleased to have satisfied customers.
All-round harmless food supplements
Do you want all-round safe food supplements to feel healthy? Then click here:
https://fuehldichwohl24.de/fuehldichgesund/
You want all-round harmless food supplements to feel relaxed? Then click here:
https://fuehldichwohl24.de/fuehldichentspannt/
You want all-round harmless food supplements to feel fit? Then click here: