Almost everyone who tries to lead a healthier lifestyle today has heard of omega-3 fatty acids. What you have heard is true: these unsaturated fatty acids are vital for our organism and we therefore also call them essential fatty acids.
Especially our brain, heart and eyes depend on these fatty acids. The supply of these fatty acids also requires great care because we have to take them in through our food. Our body cannot produce this vital substance itself.
We distinguish between three important types of omega-3 fatty acids that play a central role in the metabolism of the human organism: Eicosapentaenoic acid (EPA), docosahexaenoic acid (DHA) and alpha-linolenic acid (ALA).
EPA and DHA are the so-called marine omega-3 fatty acids, which are mainly found in fatty marine products such as salmon, herring, sardines, tuna, trout and mackerel, crustaceans and algae. ALA, on the other hand, is found in plant foods such as vegetable oils, nuts, chia seeds and flax seeds.
All omega-3 fatty acids are healthy fats. However, EPA and DHA from fish oil are the best studied. Research shows that these two types of omega-3 fatty acids can be beneficial. Below are some examples of how omega-3 fatty acids can benefit your health.
Valuable vital substance for normal heart and brain function and vision
A heart-healthy diet is rich in EPA and DHA. An adequate supply of EPA and DHA contributes to normal heart function. According to the European Food Safety Authority (EFSA), you should consume at least 250 mg of EPA and DHA daily for a positive effect. Those who consume the same amount of EPA daily also contribute to normal brain function and vision.
A daily intake of at least 200 mg DHA and EPA by the mother also has a positive effect on the normal development of the eyes and brain of foetuses and infants. However, mothers should take into account during their pregnancy that their DHA supply will decrease if their DHA is transferred from her to their baby.
The infant's intake of DHA is also of great importance. If infants up to the age of 12 months take at least 100 mg of DHA daily via follow-on formula, we can talk about normal development of vision.
Omega-3 fatty acids as a natural food supplement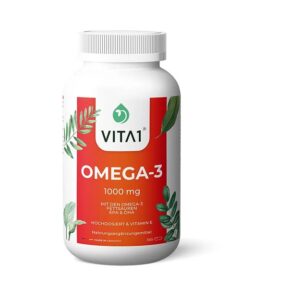 An adult person needs 2,000 mg of omega-3 fatty acids daily to compensate for a deficiency of this vital substance. This is what several scientific studies show us today. You can take in the daily requirement through food or through natural food supplements.
For example, you can find Omega-3 preparations such as Omega-3 Gold - Cardio Edition (1000mg) for normal heart function, Omega-3 Gold - Brain Edition - Premium Sea Fish Oil Capsules (1000 mg) for normal brain function, Omega-3 Fish Oil Capsules (1000 mg) and
Green-lipped mussel (500 mg).
In addition to these nutritional supplements from ZeinPharma, we offer you as a feelgood24 also omega-3 fish oil capsules from VITA1. These are high quality food supplements free from chemicals, unwanted additives, lactase, soy, palm and alcohol.