Vitamin B6, also known as pyridoxine, is one of eight B vitamins that we need for several functions in a healthy body. This vitamin is a water-soluble vitamin that occurs naturally in many foods. As it is not fat-soluble, it is regularly flushed from the body and therefore needs to be consumed daily.
The recommended daily amount of vitamin B-6 for adults under 50 years of age is 1.3 milligrams. After the age of 50, the recommended daily allowance is 1.5 milligrams for women and 1.7 milligrams for men. We must not forget that our body can only store about 20-30 mg of vitamin B6. This store is quickly exhausted and needs to be replenished.
Numerous functions in our body
Together with other B vitamins, it fulfils numerous very important tasks for our body. It contributes to a normal function of the nervous system and immune system and supports our body in the metabolism of energy, homocysteine and glycogen.
In addition, it contributes to normal mental function, to the reduction of tiredness and fatigue and to the regulation of hormone activity. We also observe an important contribution by vitamin B6 to the normal formation of red blood cells.
Food sources of vitamin B6 include poultry, fish, liver, potatoes, chickpeas, bananas, dark leafy vegetables and fortified cereals. Vitamin B6 can also be taken as a food supplement, typically as an oral capsule, tablet or liquid.
Vitamin B6 as a food supplement
A healthy and varied diet provides most people with sufficient vitamin B6. However, vitamin B-6 supplementation may be necessary for certain diseases, but also for reduced appetite, which is especially common in older people.
Before covering this gap with food supplements, it is important to talk to your family doctor and make sure you are taking the right dosage. A vitamin B-6 deficiency is usually coupled with a deficiency of other B vitamins such as folic acid (vitamin B-9) and vitamin B-12. Therefore, it is worthwhile to find out whether these vitamins are sufficiently present.
When it comes to food supplements, there are other very important points that must be taken into account when using them. Unfortunately, there are preparations lurking on the market that can only disappoint with all-round poor quality. It is therefore worthwhile to be prudent when buying and to protect oneself from danger.
Your advantages with vitamin B6 capsules from VITA1
As feelgood24 it is close to our hearts to convince the market with quality and to bring it into balance. On this path, we write very important criteria on our flag. Our work so far has shown that our criteria are highly respected in this market.
We would like to show you these criteria on the basis of our Vitamin B6 Capsules a little closer. Please read through these criteria and benefits and let us convince you of the quality and reliability of our food supplements!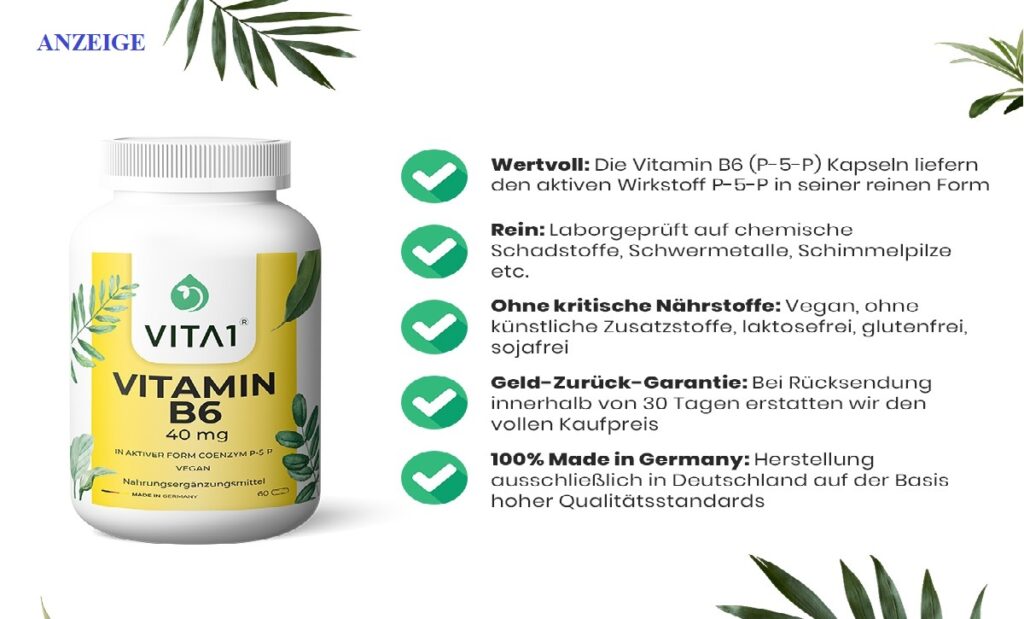 P-5-P: Pure and active form in correct dose
The Vitamin B6 (P-5-P) Capsules from VITA1 provide you with the active ingredient P-5-P in its pure form. Active means that the vitamin is already present in the form of pyridoxal 5 phosphate. What may sound chemical, however, is crucial for the efficiency of the capsules.
This vitamin is a collective term for three different forms:
Pyridoxine,
Pyridoxal
Pyridoxamine.
The B6 forms are only activated by the compounds with phosphate, as is the case with the active pyridoxine-5-phosphate we use. All three forms can be converted into the active form in the body, but they absolutely need phosphate for this.
All this can be saved by directly supplying the active coenzyme form pyridoxal 5 phosphate, as with the P-5-P Capsules from VITA1. With 40mg coenzyme P-5-P per capsule you get a real power pack for 2 to 4 months!
Manufactured and laboratory tested in Germany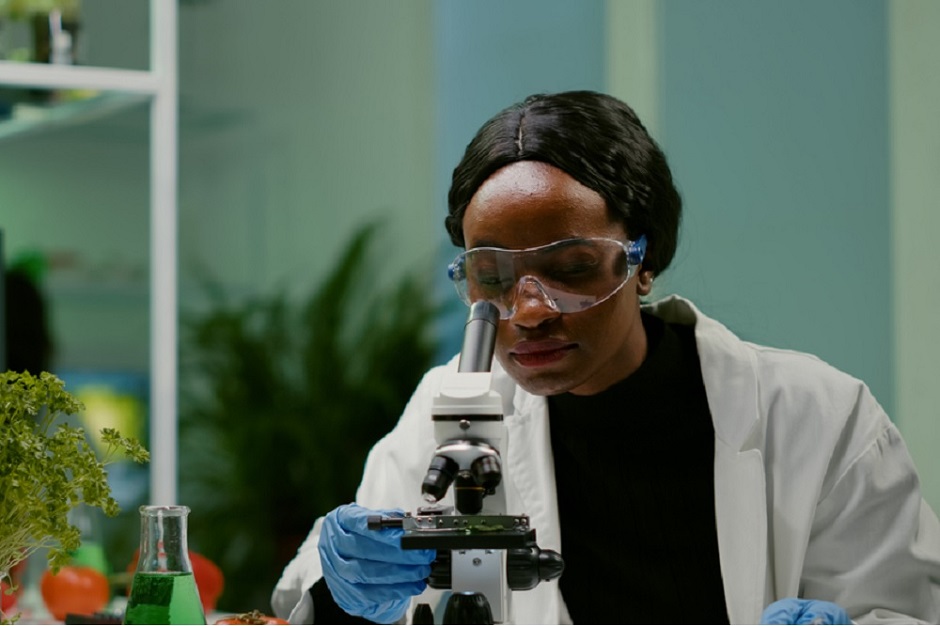 Our B6 capsules are produced and controlled exclusively in Germany under the strictest production and hygiene regulations. These food supplements are laboratory tested for pesticides, heavy metals, moulds, E.Coli, salmonella etc. and are free of chemicals.
We also take into account people for whom some ingredients may be critical and produce numerous lactose-free, soy-free, gluten-free, GMO-free, palm oil-free and alcohol-free food supplements. Our B6 capsules also contain no unnecessary additives or colourings and are perfectly suitable for vegans.
Money-back guarantee
Customer satisfaction is our ultimate goal. It is important to us that our customers are convinced of the quality of our products. B6 capsules convince yourself without any risk. If you return the item within 30 days, we will refund the full purchase price.