Myo inositol, also called D-chiro inositol or hexaphosphate (IP6), formerly even vitamin B8, is a substance that is essential for our cells to survive. Chemically speaking, this substance is an alcohol. However, this has nothing to do with the alcohol we know from drinks.
Myo inositol is much more of a sugar alcohol, i.e. a sugar-like compound that the body can make itself. We now know that the liver and kidney produce inositol from glucose. That is actually also the reason why it is no longer called vitamin B8. Therefore, it is not an essential micronutrient.
However, it is also found in a variety of foods. Natural myo-inositol is particularly common in plants or in meat. However, the fact that only myo-inositol can be absorbed and subsequently utilised by the human body is very special.
Made in the body and nature
We also know that this micronutrient does not increase blood glucose levels when ingested through food. This is an important difference to glucose. The concentration is particularly high in organs that have to perform at peak levels. These include, for example, the muscles, kidneys, liver and brain.
In food, the molecule is found in nuts, beans or wheat germ, citrus fruits mainly in the form of phytates. Grapefruit juice, peanut butter and wholemeal wheat bread in particular have a considerable amount of inositol.
A micronutrient in use for many body processes
This molecule plays an important role in many bodily processes. As an intracellular secondary messenger, it is involved in the transmission of signals, protects nerves and neurons and influences the metabolism of brain cells.
In addition, it fulfils important tasks in fat burning and storage. Other areas of influence are energy consumption and stress response. Very importantly, our body needs this molecule to regulate insulin levels and to form the structure of cell membranes.
Reputable manufacturers for safe Myo Inositol capsules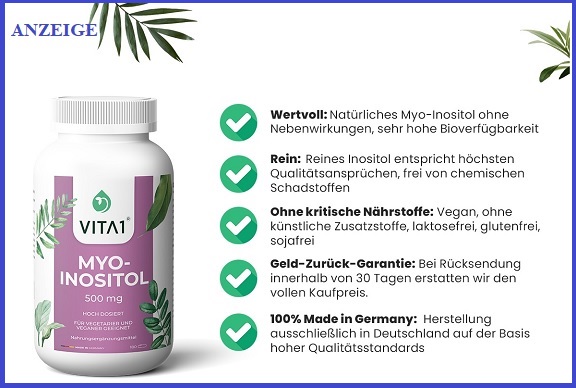 An undersupply of inositol can have various causes and can be measured in the blood or urine. Those who are undersupplied can consume myo-inositol-rich foods or access dietary supplements after consulting their family doctor. A decision in favour of a food supplement requires a search for reputable manufacturers.
Are you looking for safe Myo Inositol capsules from a reputable manufacturer?
Then click here:
https://fuehldichwohl24.de/vita1-myo-inositol-180x-500-mg/
You want all-round harmless food supplements to feel healthy? Then click here:
https://fuehldichwohl24.de/fuehldichgesund/
You want all-round harmless food supplements to feel relaxed? Then click here:
https://fuehldichwohl24.de/fuehldichentspannt/
You want all-round harmless food supplements to feel fit? Then click here:
https://fuehldichwohl24.de/fuehldichfit/
High quality food supplements from VITA1
As feelgood24 we offer you food supplements made in Germany and tested in laboratories if you have to do without food with Myo Inositol for a variety of reasons. We do not only focus on the need for additive-free food supplements in top quality.
As a reputable manufacturer, we also take into account people for whom some ingredients may be critical and produce numerous lactose-free, soy-free, gluten-free, GMO-free, palm oil-free and alcohol-free food supplements.
Thanks to VITA1 you have a large assortment and no wish remains unfulfilled. Starting from Vitamin C Capsules up to the Vitamin D capsules you will find high-quality and sensible dietary supplements in top quality.
If you need nutritional supplements or vitamin preparations, you should definitely not assume that all nutritional supplements are free of additives and colourings. Not all supplement manufacturers position themselves for certain groups who, for example, eat a vegan or vegetarian diet or consider a diet without artificial additives to be very important.